Rotation, rotation, rotation!
I know I've said it before, but I am serious this time. I am going to stick with it. I have too many projects that I want to finish, and they will never see me again if I don't get strict about my stitching. So I've taken my top 5 WIPs and assigned them a monthly spot. I've even typed it all out on my computer calendar, so I can't forget what I am to be working on, and when. I have a slot for these WIPs:
*Mirabilia (Feather Fairy, although I should finish The Kiss) gets week one, including the first weekend of the month for the SAL.
*Helene Tran (Beautiful Hats) get 5 days of the next week
*Elrond (Dracolair's Dawn Awakening) gets the second weekend of the month for the SAL
*HAED (Holiday Splendor) gets the next week or two, if it is a long month (this is my focus piece)
*L&L (World Peace Angel) gets the last week
This changes a little depending on the month, but my calendar keeps track of everything and makes sure everything gets their turn. Hopefully I will finish up some of those that are in danger of becoming a UFO!
Sadly, I must put Holiday Splendor away until April. She's looking so great, and it's hard to part with her for two weeks! Here is my progress for March (click for details):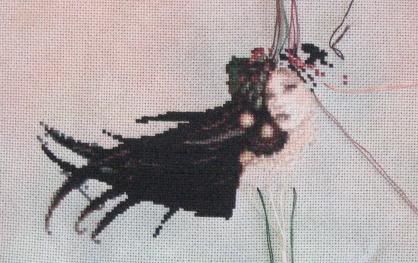 The good thing about putting her away is that I get to start a new project! Stay tuned for updates :)