Good Things to Come...
I promised a sneak peek, so here it is! Those of you who actually read my blog will get the preview to my new jewelry line! It will be called my "Bubbles" line, and will combine my love of needlework, scrapbooking, and beading! I wanted to create some wearable scrapbook pages, so here's my brainchild: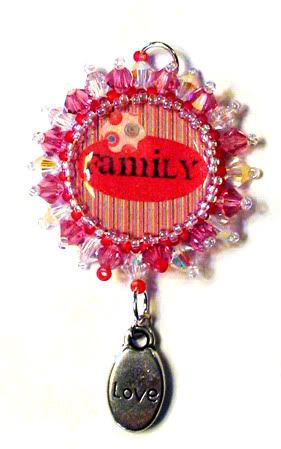 It's a teeny tiny scrapbook page encased in acrylic and wrapped in beads. They will be hung from sterling silver and have lots of crystals and pretty dangles. I will have several different sizes - even bracelets and earrings - so they will be for any budget! Remember: this is just a peek, not the whole thing. Just wait until you see the finished necklace!! I'm real excited about these - I hope they do well.
And my layout for today: This was supposed to be a graphic design - simple and clean, but it didn't turn out that way. I guess simple and clean is just not me! I think I'm more "artsy" and too freestyle for that! Oh well, pretty happy with how it turned out anyway. See credits
here.