Feeling Sentimental...
While putting off housework today, I was playing with Alex and missing my girls (who were in school at the time). All the scrapbooking I've been doing lately has gotten me in the "mommy" mood. Sometimes I don't think I do a good enough job with the kids, and I need to remember to make sure they know how much I love them. The oncoming autumn propels those feelings, too. There's just something about fall...the light changes. Everything is warm and glittery. It's a great "family" season! I just want to grab the kids and go outside.
With this feeling in mind, I made a couple of pages with fall colors, focusing on my solemn love for my kids. As I practice this new craft, and learn more techniques, I feel that I am developing my own style. I really like these pages, much more than my first few "practice" ones.
Your Smile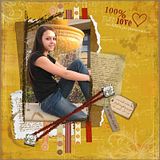 Layout details and credits are
here
.
Chocolate Face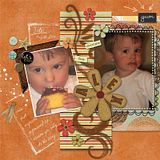 Layout details and credits are
here
.
Two more kids to go!