Tagged Again!
Oh! Oh! Guess what??? I can finally reveal....

How exciting is that??? Check back soon for lots of layouts using Laura's awesome stuff!
Cindy
has tagged me! I love tags!
The rules:
List seven songs you are into right now. No matter what the genre, whether or not they have words, or even if they're not any good, but they must be songs you're really enjoying now. Post these instructions in your blog along with your seven songs. Then tag seven other people to see what they're listening to.
Hmmm...only 7?? Let's see...
1.) Far Away by Nickelback
2.) Fallilng in the Ocean by Blue October
3.) This Kind of Love by Sister Hazel (new album! Yay!)
4.) Wild Child by Enya
5.) Diary of Jane by Breaking Benjamin
6.) I Dare You by Shinedown
7.) Inside of You by Hoobastank
Ok, now to tag other people....
FaithAnn
Yany
Michelle
Melanie
Christine
And I'll leave you with another recent layout (I have to get better about sharing these! I've done quite a few lately!):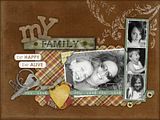 This was a desktop that DH requested for his work computer. Couldn't refuse that! This layout won the
Sweet Shoppe Designs Blog
"See it in Action Saturday" contest that I didn't even know they had! Everything is from SSD.