A Nature Walk
The new Google satellite maps are amazing! I recently pulled up my own address and saw an aerial photo (well, space photo, I suppose) of my entire neighborhood. My house backs up to a small wooded area (trees are rare in these new subdivisions). Turns out there's a pond back there! Just a few steps from my backyard! We've been here for a year and a half, and never knew it was there. So we don our hiking boots and go in search of it. See that triangular black spot? That's it - the red marker is my house.
Practically undisturbed, the large pond is full of wildlife. Apparently deer don't need satellites to find bodies of water. Oldest DD has dubbed it "Dragonfly Pond" because they were buzzing everywhere.
On the far side, a fallen tree was acting as a nurse log for all kinds of growing plants, including these very cool shelf fungi (sorry, I'm a botanist, remember).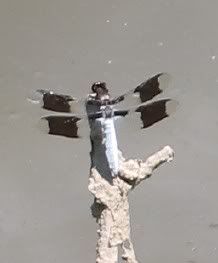 The weekend also showed me the most gorgeous, vibrant rainbow I've ever seen, against a sky filled with the colors of summer.