Extreme Weekend Warriors
I know I haven't posted in a long while, but we have been so busy working in the yard. Actually, DH (and his dad) does most of the hard labor, as Alex makes it difficult for me to help much. I act more in the role of designer / supervisor :) It is wonderful to see my plan starting to take shape! The curves are beginning to define the areas between planting beds, stream bed, sidewalk, and patio. Our fountain turned out beautifully, and I love the sound!
We will soon have the showhouse of the neighborhood! All the other houses in the subdivision have cookie cutter yards with a teeny sidewalk leading from the driveway to the front door, a few shrubs and trees scattered here and there. I will have a wide, curving, wandering sidewalk with a bridge crossing a stream. It will be a path through a garden, ending at a cool water fountain. I can't wait!
I forgot to take a before picture, but I do have some in-progress pics. We hope to pour concrete for the sidewalks this weekend.
This is the view of the front of the house from the right side. It's hard to see the curving shape of the soon-to-be sidewalk because the lawn slopes a bit. You can barely see the urn fountain that will be set in the middle of the patio by the front door.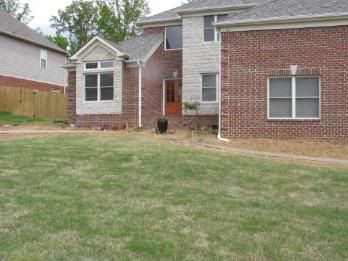 This is from the left side of the front lawn. The sidewalk will end at the street here. It will be bordered on one side by flowerbeds, and a dry riverbed on the other side.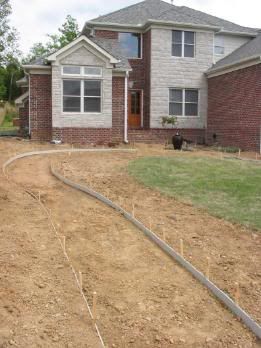 My first scarlet rose of the season! For those interested, it is a floribunda. It sets the stage for the red and purple color sheme I hope to achieve.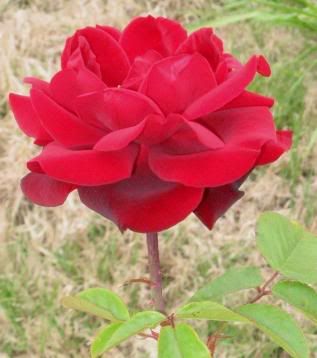 I want to plant a butterfly/hummingbird garden when the flowerbeds are ready. I don't think we will have a problem attracting them, since we have caterpillars all over the place!

I'm so glad it's finally spring! I will post further updates as we move forward.